Waiakoa Trail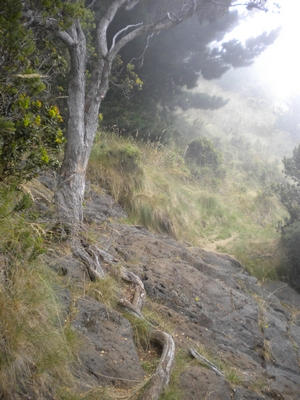 Length of: Bike Ride
5 Miles
Difficulty: Very
Description of Ride:
Waiakoa trail Maui Hawaii. The trail is located on Haleakala at the Polipoli park the trail is actually just as you enter the park. To get there take the road to Haleakala and pass the turn off to climb up the mountain. Continue on to Waipoli road. The road is very narrow and steep. I had a couple of trucks pass by and only missed my car by a few inches. When the road crosses onto open range it becomes true single lane and climbs with so many switchbacks that I lost count (23). The road is very exposed as it crisscrosses across an open field, climbing higher and higher. It is so steep that I almost felt weak kneed. Finally after what seems like an incredibly long climb the road passes by a hunting registration hut. This is the trail head.
At the trail head there was a sign that read 'No Bird Hunting' and another that read 'No Pig Hunting'. From the road the trail descends down a very steep slope. It is a double track here and for the first 100 yards it is covered with gravel. Then it turns to dirt double track and turns right around and climbs back up. Ascending further then the descent. Seems they could have just cut a single track straight across and saved us a lot of climb on a trail that really isn't much to speak of. Another half mile or so along a double track that meanders along with a little bit of a climb until it reaches a gate where the official trail head is.
The trail is 2.8 mile length and is a loop. It has a spur that the Bob at Island Biker told me not to take. Bob said the spur takes off up hill and then becomes un-rideable. He said he had to carry his bike for miles before he was able to make it back to the trail. The trail went down the hill, and up at a slight ascent. I decided to take the descent. For the next eight tenths of a mile the trail switched back and forth through the wood. Fairly steep descent with a couple of switch backs that I had to dismount and walk around because of the slope of the switchback and the high concentration of roots in the trail. The track was very uneven, not smooth at all. There were parts of the trail that looked as though a heard of something had trampled along it. The only thing I can come up with is that possibly these areas are from the wild pigs rooting around. It was real tore up.
At the bottom of the descent the trail followed the terrain and opened up a little bit. It ran along for a quarter mile or so then started up hill sharply. I had to walk about half of the climb because of un-mountable root steeps and ruts that look like they were made by horses. The ruts would be about a foot wide and 6 to 8 inches deep. Just the right depth so that I was able to make a few peddle stokes and my peddle would come down on the ground and stop me flat. There were areas that have had rubber mats laid down to keep the ground from rutting but they were very scattered. There would be ten feet of matting then the trail turned into a deep rut. Very hard to try and ride going up hill
After a mile of climbing the trail leveled off and started running at a slight down hill slope. Defiantly the best part of the ride. There were lots of dry creek beds that the trail crossed and most were not ride able so again there was a lot of stopping and getting off to cross this area then back on to ride again. Had I been riding with someone else I might have tried to clear a few of the crossing but most were just too hard or the penalty too great
Once back to gate, it was an easy cruse down the double track back to the road.
I would not recommend this trail to any one. It was at least 20% to 30% hike a bike and I do not push my bike unless I have no other choice. I have been on trails where I have been trudging up hill, still peddling and looked back to see riders walking their bikes and still keeping up with me. I may be going slow but I well stay on the bike.