Slick Rock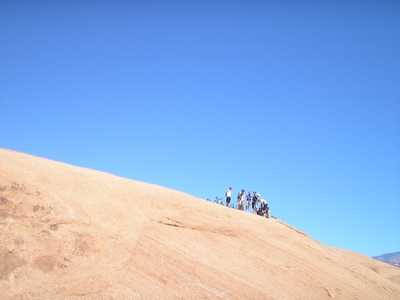 Length of Bike Ride
4-12 Miles
Difficulty:
Experenced
Description of Ride:
Slick Rock Trail, Moab Utah
After taking a guided ride with Rim Tours and talking to the guides about the Slick Rock trail, I decided to go ride the practice trail and then if I felt up to it, ride out to the first view point. That would give my about a five mile taste of the Slick Rock trail. Getting a taste but not getting in over my head
Nick my guide from the Klondike Butte trail ride had told me the Slick Rock trail is like doing wind sprints when you were back in high school track. The ones where you would run for 40 to 60 seconds full speed then walk for the same amount of time to catch your breath. He was right on target. The climbs were some of the steepest I have ever attempted. I had to stand and get my weight as far forward over the front wheel as I could to keep the front of the bike on the ground. Pumping full out to make the climb. Then a short stretch across the top of the rock, sometimes winding along the length of the rock outcropping, then a steep decent, 10, 20, 30 feet. In some cases I just had to get off the bike and walk it a few feet up or down because it was so steep.
On the practice loop I was able to ride all of it except a couple of places. On the main trail, which I rode about three miles out on, then came back. I found a few more places, that it was just too steep. They were easy to spot, they all had scuff marks on them from bike peddles hitting as riders must have been dismounting on the fly. A couple of the descents that I did go down, I found my self completely off the seat, my ass over the back tire, and my solar plex against the seat. Nick had suggested lowering my seat down since he said I would have to stretch out on the descents.
I didn't feel bad for not being able to make the full ride, since I do know what my limits are. I talked to a guy on the trail that lives in the area, and after we parted, noticed he was walking one of the sections that I too had walked the bike down. it's knowing your limits, and what is practical.
One other note, the trail is open to both mountain bikes, and motorized bikes. I had a guy on a motor cycle come up over the ridge as I was heading back. He was dressed in complete crash gear. Elbow and forearm pads, knee and shin pads, a full face helmet. Taking the trail very slowly, looking over the terrain well before he throttled up and continued on